Toddler Toothbrush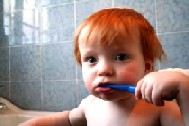 Choosing a proper toddler toothbrush is important as your child is young and their gums are tender. There are a wide range of toothbrushes available in the market for young children ranging from the manual ones to those electric toothbrushes.
The following are some points to take note of before purchasing your child's toothbrush :
the bristles must be soft to protect the child's teeth and tender gums
the toothbrush have a small brush head size for your little toddler
the toothbrush have an angled head to clean hard to reach places
the toothbrush have a flexible neck to absorb brushing pressure that may cause gum iritation
the toothbrush have a large handle for a secured grip, both when it is wet or dry
if you are helping your toddler to brush, get a toothbrush that has a long handle
It may be tough to get the children to brush their teeth but with the emergence of fun packaging and attractive colours, your child will enjoy the brushing process. You can now find kid toothbrushes with their favourite television or Disney characters.
It is recommended that you change your toddler toothbrush every three months.